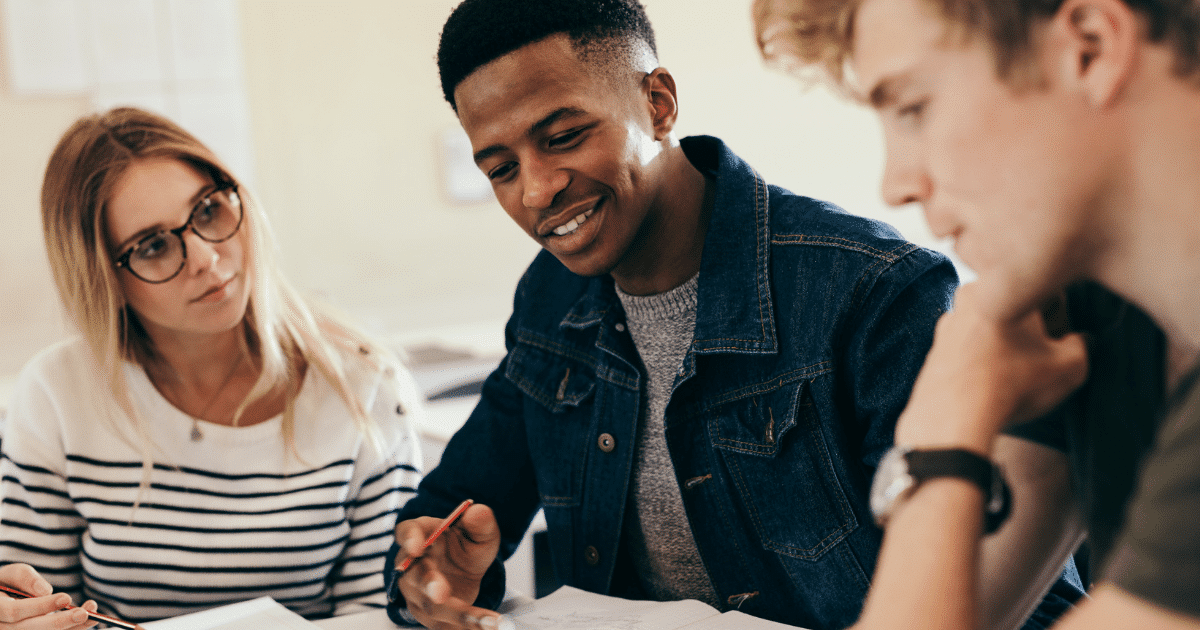 Last updated: 23 June 2021
Our Academic team share their top 6 fun and proven study tips that will help you transform your study time. These tips are aimed at helping you work smarter and more effectively, plus they are super easy to follow too. Choose your favourite or try them all.
Study Tip 1: The Slice Method

Prince Leburu: Programme Manager
"Do not try to study everything at once, rather group and schedule your study material into manageable slices."
I always say do not try to study everything all at the same time, rather group and schedule your study material into manageable slices.
Group and schedule your studies by topic and then, follow the schedule.
Start small and give yourself 15 minutes to begin with.
Increase study time as your topic confidence builds up.
Develop the study habit and be consistent.
Never procrastinate.
Take a piece of paper or use your electronic device to schedule your studies. Provide all the fields in your schedule such as day, time, study topic and a section for reflection. After every study "slice", take some time to reflect by answering the following 3 questions:
What new thing did I learn?
What questions do I need to answer about this topic?
What did I not understand?
This review will help you to enhance your level of understanding. Good luck and always remember that "happy days are school days".

Study Tip 2: Splash of Colour and the Magical Pen
Jayde Lazarus: Course Coordinator
"I am a visual learner. So when I learn I need to see things come to life with colour."
I am a visual learner, so when I learn I need to see things come to life with colour. I highlight key terms and important concepts, and I draw pictures/diagrams in order to help me remember. I make summaries using key concepts and important information. It is important to write it out as research has shown that writing your own notes is part of processing and understanding information.

Study tip 3: Active Recall
Thembelani Dyubele: Course Lecturer
"The Active Recall method ensures focus and helps build long-term memory."
I use an "Active recall" method when studying because this method ensures focus and helps to build long term memory.
Active recall is a principle of efficient learning by recalling the important parts of the information that you've studied so that you can actively stimulate your memory during the learning process. You can do this by asking yourself some questions after studying a certain section. It contrasts with a passive review, in which the learning material is processed passively for example by reading, watching, etc.
A good example of active recall is when you are reading an article about the freedom of South Africa, you could ask yourself: "Who was the first black president in South Africa?".

Study tip 4: Nothing more practical than a good theory
Danie Vlok: Academic Head (2020)
"To ensure effective learning, we need both theory and practice."
I have been in education for the past 22 years and I have always found the quote from Kurt Lewin inspiring when he says: "Nothing is more practical than a good theory". When a lecturer says to a student: "You must read and understand the underlying theory of the discipline, such as management or leadership, etc. the whole class silently thinks: "Oh no, not theory again. Show us something practical".
Of course, there is nothing wrong with practical examples to illustrate a concept, how it works, etc. But, if you think carefully, behind every new discovery or human invention, there is a theory which explains how things work. Take the Covid-19 pandemic as an example – the whole world has been turned upside down and everyone is looking for that magic cure to combat the virus (practical solution). In the meantime, governments have instituted what they consider practical measures such as lockdowns and other regulations to prevent the spread of the virus.
So, where does theory come in?
Behind the scenes, scientists are relentless studying the virus and based on past and current research, seek to understand it, its elements and behaviour. The point is, to develop a practical solution or cure, we first seek to understand and explain a phenomenon, develop and test vaccines, experiment, then test it thoroughly, evaluate the findings before administering the vaccine. Thus, a theory is the one side of the coin, and it informs practice, the other side of the coin. To ensure effective learning, we need both theory and practice.

Study tip 5: Be SMART
Thandekile Nkohla: Programme Lecturer
"Be SMART when you are studying and set realistic goals."
I am full-time employed, married mother of two. I have obtained 2 qualifications through distance learning. They say, "distance learning is not for everyone". My reply to this is: "Be SMART".
I always set my goals based on the number of modules I need to work through, how much time I can invest in my studies, when am I planning to complete my course, etc. My timetable includes submission of assignment due dates, family activities and work deadlines. I do not compromise any of these items, as they are all important to me. Knowing my abilities, I am always true to myself and track my progress weekly. I always involve those around me (colleagues, family and friends) as they are my first support system and I ensure that I have at least 80% of all my available resources. What keeps me going is my passion to learn more and to better myself.
Herewith a few tips that help me get the most out of my study time:
Set monthly, weekly, and daily goals
Create a dedicated study space
Schedule time to study on your calendar
Keep yourself accountable
Actively take notes
Join the online discussion forums and attempt activities
Submit your assignments on time
Share your shortfalls and achievements
Read feedback from support staff
Take breaks and try to eat healthily

Study tip 6: Know your principles/rules
Sesethu Malgas: Course Lecturer
"I always use a principle/rules book when I am studying."
I always use a principle/rules book when I am studying. While I am studying, I write the principles about the topic in my 'principle/rule book', so that when it's time to revise my work, I don't need to refer back to the textbook but I can then use this 'principle/rules book' to answer my questions. I also highlight the important keywords in each section, because colours help me to remember the concepts a bit better. In addition, I create my own abbreviations of key terms that helps me to remember the work, and in doing so, it makes my studying fun.
Be sure to check back soon, we share weekly study tips on our Social Media pages to help you stay motivated and achieve your study goals! And, If you'd like to let us know which study tips are working for you feel free to leave us a comment or inbox message on our Social Media pages. Your feedback is important to us.