Final semester student Portia talks to us about her inspiration for studying and how to keep motivated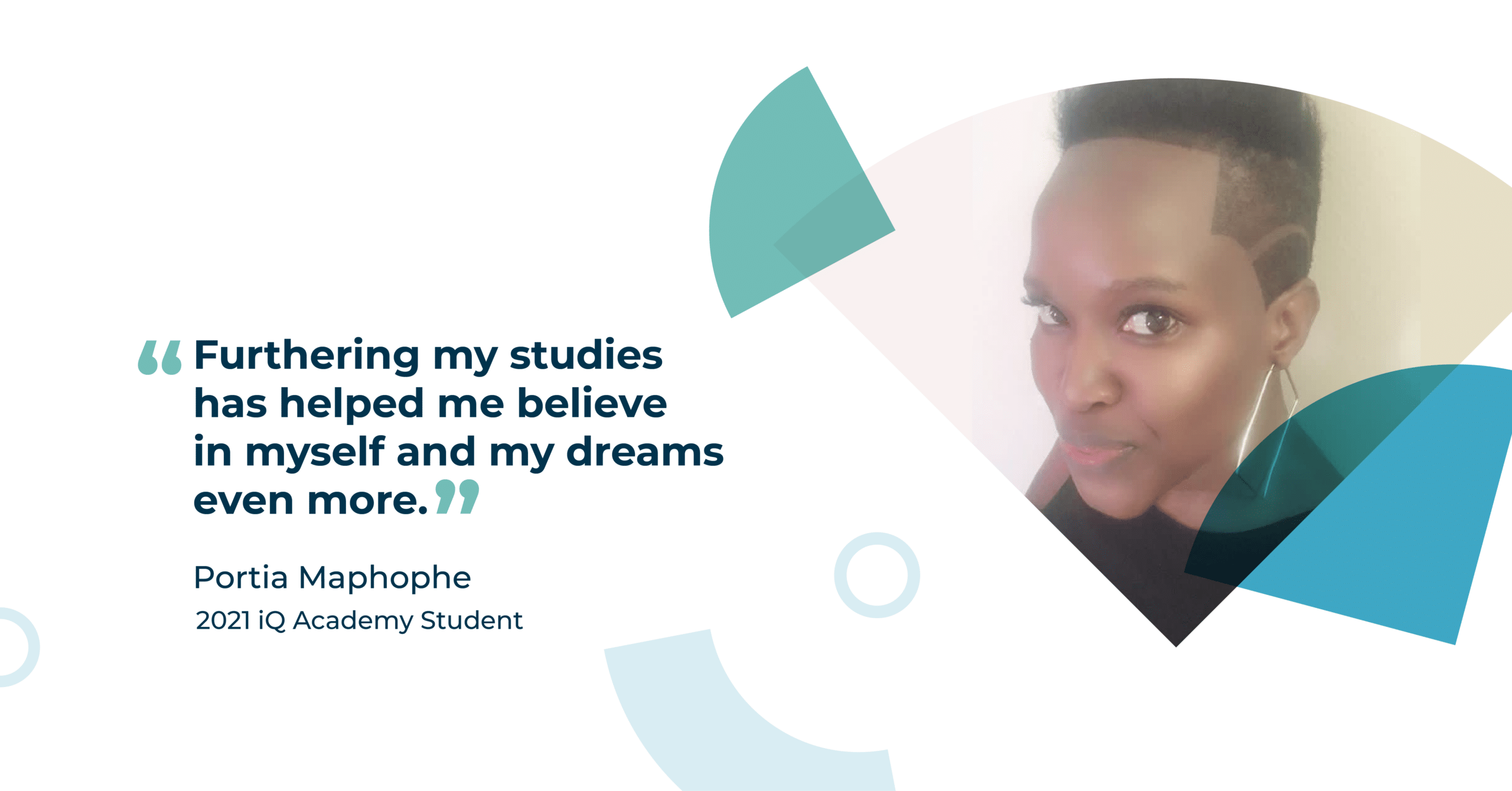 Meet Portia Maphophe, a devoted wife and working mother of 3. Portia is currently in her final semester at iQ Academy studying a Higher Certificate in Marketing Management.
We spoke to Portia about what kept her motivated and how she balanced work and family life. Read on as Portia talks about self-belief, determination, family support, and how this all keeps her motivated while studying.
What inspired you to study?
I have always wanted to have a qualification and graduate but when I was younger, I couldn't afford to further my education. So, when I got the chance to study, I grabbed it with both hands. I knew that studying would make a difference for me and my family no matter my age. I always say it's never too late to pursue your dreams.
Winning and working hard to reach my goals has always been my dream and now I have what I've always wanted for myself and I am not stopping here. Choosing to study was about building skills, self-confidence and creating opportunities for me to advance in my career.
As a Mom, I also believe it's important for me to pursue my dreams and show my children that anything is possible if you believe in yourself.
What goal did you want to achieve through your studies?
From the experience in my previous jobs, I knew I loved interacting with people, and it became clear to me that a long-term career in marketing and sales would be a great fit for my passions. So, I decided to get a qualification that would work well with the experience I have and that would enable me to pursue my dream of one day becoming the Head of a Marketing Department.
I really believe that with my qualification I can get the position I want, and that is also about being able to create a more stable future for me and family.
Why is education so important to you?
I think the key to reaching your goal is through studying. If you don't invest in your future, you may end up doing something you dislike. Nobody should be stuck in a job they hate that makes them unhappy, and if you invest in yourself and your education you can open other doors for yourself.
I am also very invested in continuous learning and after this, I am definitely going to obtain further qualifications. I think it is important to have a range of skills that support different disciplines, that way you can be the best in your field
How do you keep motivated while studying?
I always remind myself why I did it in the first place and how completing, and graduating would make me feel. I thought about how furthering my education would get me closer to my dreams for myself and my family. Furthering my studies has helped me believe in myself and my dreams even more. I am so excited; I am over the moon about the future and that helped me to keep focused on completing my course.
If you don't believe in yourself and why you are doing it then you will lack the motivation to complete your studies.
I think that you can do all the planning and preparation you like but if you don't believe in yourself, why you are doing it and the difference it can make then you will lack the motivation to complete your studies. We should enjoy studying, it's a gift we give to ourselves. And if we remind ourselves of that, the motivation to keep going, no matter your age or circumstances, will always be there.
How did you balance work/family demands with studying?
When I decided to start studying with iQ Academy I was about 8 months pregnant with my 3rd child, so we had to balance a lot as a household. With the support from my family, especially my husband, I was able to balance work, studies, and motherhood. I believed in myself and my family, in return, believed in me. It wasn't easy but that encouragement helped me to push through some of the difficult times.
I also made sure I planned my time, with 3 kids it can get very busy! If I created a schedule and stuck to my plans then I would always get what I needed done on time, at work, with the family and in my studies. I really had to plan, and I had to involve my family in those plans too and they were always there to help me!
The support from my programme lecturer also helped me to keep my studies on track, they were always there when I needed help with something.
What made you choose iQ Academy?
I previously studied with a different distance learning institute, but I choose iQ Academy because it was more convenient and managing my studies was much easier. I didn't have to worry about submitting my assignments or getting my study material. My journey was smooth and that gave me peace of mind
Why would you motivate someone else to start studying?
I believe it's important to have both experience and education in today's world and I think having a qualification boosts your confidence and opens a lot of doors.
If you have education, experience, and passion you will be unstoppable!
So, I would encourage others to study something that fits within their goals and the dreams they want to achieve.