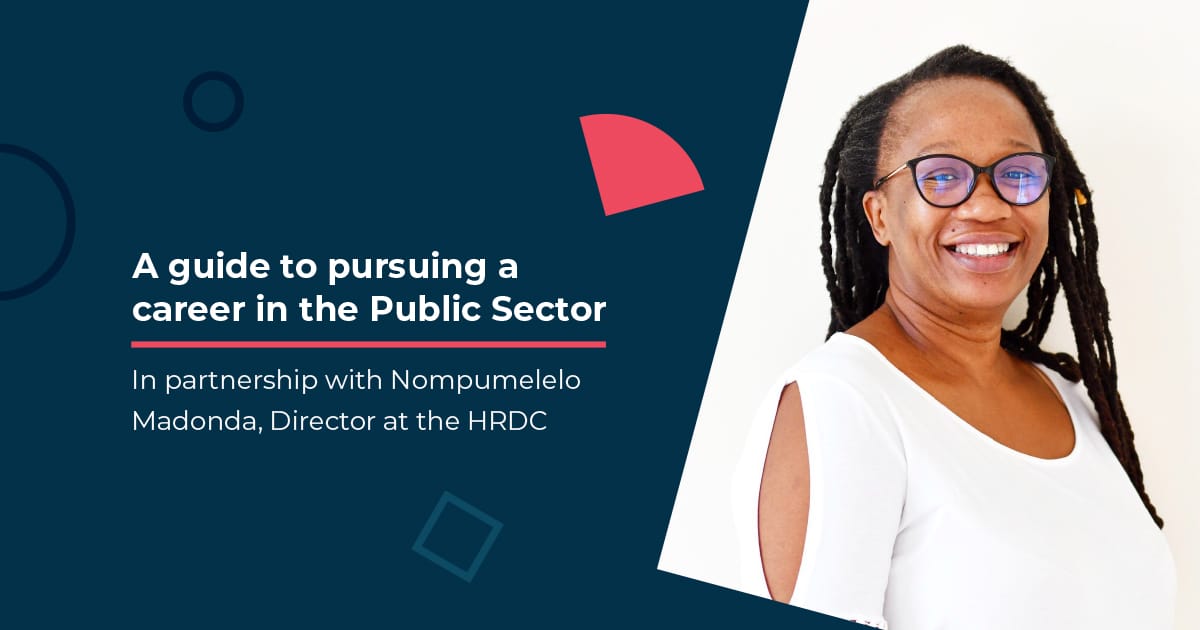 iQ Academy is proud to partner with Ms Nompumelelo C. Madonda to bring you a comprehensive and easy to understand guide on how to pursue a career in the Public Sector.
Ms Madonda is a Director at the Human Resource Development Council of South Africa (HRDC). The HDRC is a national, multi-stakeholder advisory body chaired by the Deputy President of the Republic of South Africa and managed by the Ministry of Higher Education and Training. One of the Council's key responsibilities is to build the human resource development base required to ensure a prosperous and inclusive South African society and economy.
Ms Madonda brings a wealth of knowledge and insight into the public sector that can help you understand the key aspects of growing a career within government.
In this guide Ms Madonda explains the public sector and discusses possible career paths in government, benefits of being employed in the public sector and finally some of the most popular job opportunities.
Introduction
This guide aims to give advice to those who wish to pursue or strengthen their careers in the Public Sector—especially, in Public Service. It further equips you with background information that will enable an informed choice as you select your academic or skills programme.
The South African Public Sector is open to people from various academic backgrounds; nationalities; and work experience. To successfully enter and advance in the service requires an in-depth understanding of public service regulations, policies, strategies, legislation and key systems that shape the environment in which public service delivery happens.
This understanding can only be acquired through formal studies in Public Sector-related disciplines such as, Public Administration/Management; Local Government Management; and others that iQ Academy is best placed to equip you with.
Let's start with an important question.
What is the public sector?
The Public Sector is made up of government departments; agencies; enterprises whose goal is to improve the well-being of the members of the public. Examples of public sector services are:
Healthcare;
Education;
Roads;
Traffic control;
Housing;
Small business support;
Water provision;
And many others.
Most services can only be provided by government while others can be shared between government and business or private individuals. Bulk water and public roads are the responsibility of government while healthcare can be provided by both public and private hospitals and clinics.
What does it mean to have a career in the government sector?
To have a career in the government sector means to gradually grow into senior positions (i.e. career path). This is possible when an individual studies and learns new skills that are in demand in government such as studying public management. As well as performs their duties and behaves professionally such that their performance is rated satisfactory for at least 3-5 years.
For example, with a Grade 12 certificate and basic skills such as computer literacy, spoken and written communication in English, one can start a government career as a Receptionist and progress as shown below: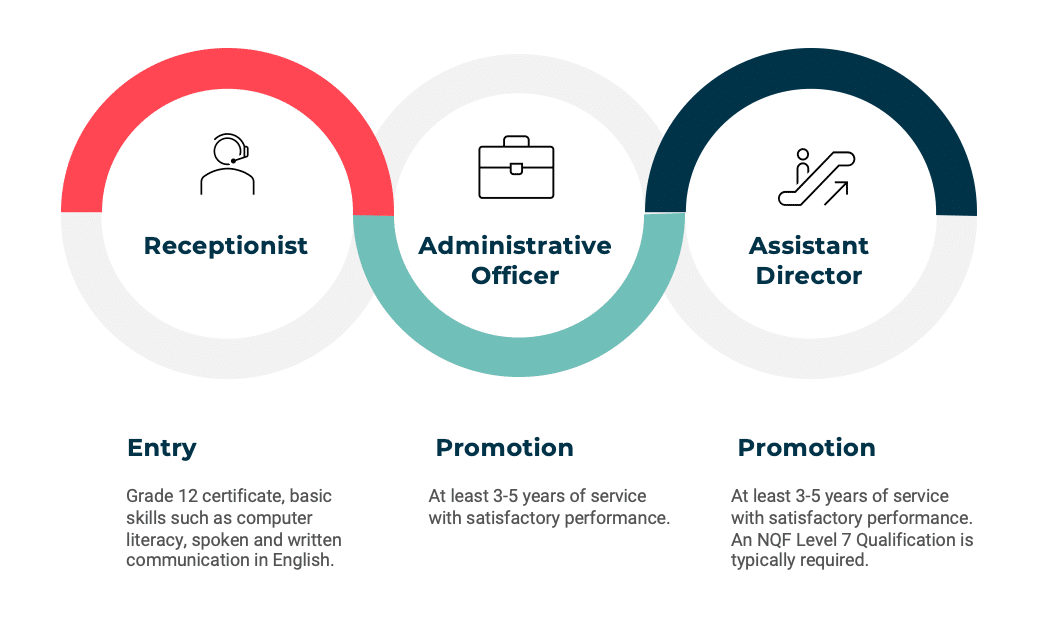 It is also possible to enter the Public Service at a Middle Management Service (MMS) level (i.e. Deputy Director).
An applicant needs to have 5-8 years public or private sector work experience at a junior management level. Some jobs require specialised qualifications (e.g. Auditing/Accounting/Project Management) and registration with professional bodies while others only need generic qualifications (e.g. Bachelor of Social Sciences).
Most jobs at this level require applicants to hold at least an NQF Level 7 qualification (i.e. Bachelor's degree or Advanced Diploma). Both South Africans and non-South African citizens may apply for most government jobs—if they meet all qualification criteria.
Another point of entry is into the Senior Management Service (SMS) level (i.e. Director and higher).
Entry into the SMS job requires at least 5 years of relevant work experience at middle management level from either the private or public sector. Like almost all Public Service management jobs, an NQF level 7 qualification is required coupled with a Pre-entry certificate into the SMS, namely, the Nyukela Programme. The Nyukela Programme is online facilitated by the National School of Government.
Public sector employment VS private sector employment
Public sector employment is through open competition and is guided by employment laws and policies. Promotion into senior positions is through open competition too! Knowledge of public sector policies, rules, regulations and processes qualify one to compete equally if they meet the minimum requirements, except for first-timers.
First-time employees in entry-level jobs do not need work experience.
Entry-level jobs only need a Grade 12 with basic computer, writing and verbal communication skills.
Some jobs are reserved for targeted minority groups (according to race, gender, disability) as per Affirmative Action policies.
Junior positions are generic allowing employees to learn different aspects of a job.
There are specialised jobs that start from junior positions e.g. Administrative Clerk in a Supply Chain Management section can grow to a Director in the same specialisation.
Satisfactory performance is considered effective when a Department meets its set targets.
Some jobs are by invitation to support Ministers, Premiers and other political executives. These are Advisors and Support Staff to political executive office-bearers.
While private sector employment is:
Also guided by the same employment laws, policies differ per private business.
For example, some private sector institutions are family businesses, and they may prefer to employ. family members in certain positions irrespective of the academic qualifications of these employees.
Similarly, employment is through a competitive process.
Job security depends on how well a business can make profit plus the interests of investors.
It is quicker to spot talent and promote to senior positions.
Innovation is encouraged especially when it grows the business.
Public sector
The public sector is owned and controlled by the government. It includes government departments, municipalities, public entities and State-Owned Enterprises which are owned by both government and the private sector. The Public Sector looks after the well-being of members of the public.
Employment is open to the citizens of the country except when the sought skills are not available in the country. The employment process follows these steps:
Vacant job is advertised in the newspapers
Applicants fill a Z-83 form
Attach a curriculum vitae
If minimum requirements are met, applicants are interviewed
The best performing applicant is appointed from within target categories (i.e. race, gender, disability)
Employees are introduced into the job through orientation before they sign a performance agreement
Performance is assessed at least twice a year before permanent employment is confirmed
Training and academic study opportunities are offered to all employees
There are plenty of opportunities to travel to service delivery sites, interact with peers and members of the public and attend conferences/seminars/webinars— all expenses paid for by the employer!
Other standard employment benefits to employees are pension, medical aid, leave
There are rewards for above-satisfactory performance in the form of a performance bonus—even though this is coming to an end; and additional leave providing the employee does not break service
Compulsory end of permanent employment is when an employee reaches the age of 65 years.
Private sector
The private sector is owned and managed by private individuals who own businesses of different size and type. Businesses are formed by law and pay tax to the government from the profit they make. Businesses are there to produce goods and render services at a fee so that they make profit. When the demand for goods and services decreases, a business runs the risk to shut down and its employees lose jobs through retrenchments.
Private sector businesses use different ways to recruit and employ staff. For instance:
A company may advertise jobs online or outsource this function to a recruitment agency
Each job has a job description with key duties to be performed by the successful employee
Employment Equity targets are to be met (i.e. race, gender and disability)
Family businesses reserve key positions for family members
Job requirements are on job descriptions
Talent is rewarded quickly especially when employees are innovative in ways that improve business operations
Salaries are determined by profits made by a business
Employment benefits are limited depending on the size of the business
Private sector employment:
Limited job security dependent on profit-making

Bursaries limited depending on the availability of funds

Limited depending on business core functions

Limited leave types as focus on production and profit-making (e.g. 1 vacation leave day per 1 month of work)

But it does offer flexibility and possible job rotation
Benefits of having a career in the public sector
Popular job opportunities in the public sector
With the introduction of Information and Communications Technology (ICT), government continues to create new jobs. In addition, pressure to deliver services with limited means require new ways of showing evidence that the government is successful. Below is a list of job opportunities starting from Learnerships.
In Conclusion
While it is evident that there are various types of jobs on offer in government, unemployment is still high in South Africa. That means competition for available jobs will attract a lot of applications. For the best chance of landing your dream job it's important to always be a step ahead by learning new skills that give you a competitive advantage above other applicants.
Based on the evolution of the working world during recent years computer skills are in high demand in the public sector especially data management, presentation skills and writing for the Public Sector. Secondly, improving your knowledge about Public Service by understanding public sector laws and regulations can go a long way in both helping your application stand out as well as how you present yourself in an interview.
Start by reading job descriptions to understand the job requirements and try to map out a career path for yourself. Compare this to the skills and knowledge you do and do not have. Doing so will help you to identify your strengths and areas of growth. Invest in up-skilling yourself with the right learning programme that fits into the career path you want to pursue.
You could start with Short Courses until you have the confidence to study a Higher Certificate programme or if you are ready to pursue a qualification you can do so immediately. You can also find a mentor who works in the Public Sector and is willing to share their expertise and guide you on the right path.
Whatever your career goals in the public sector iQ Academy can offer you a programme to help you get there. In addition, the recently launched Higher Certificate in Local Governance offers students a very unique and competitive programme that will position candidates for success in local government!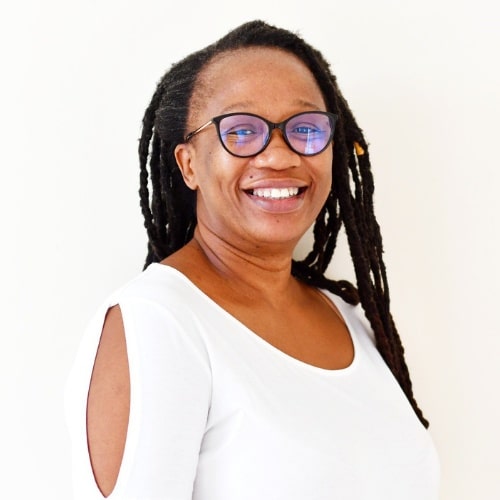 About the Author
Ms Nompumelelo C. Madonda
Ms Madonda is a Director at the Human Resource Development Council of South Africa (HRDC). The HDRC is a national, multi-stakeholder advisory body chaired by the Deputy President of the Republic of South Africa and is managed by the Ministry of Higher Education and Training. One of the Council's key responsibilities is to build the human resource development base required to ensure a prosperous and inclusive South African society and economy.
Ms Madonda partnered with iQ Academy to produce this comprehensive guide for those looking to pursue a career in the public sector.